You've discovered resin crafting or resin art and you are curious. Your research has been done, you've picked all the right supplies, and now you're ready to give it a shot on your own. What do you make? Here are some resin art ideas, all of which are totally customizable so you can add your own flare.
Resin Stickers
The first of our resin art ideas involves applying doming resin to your favorite stickers. It is important to use a very small amount of resin for this, especially when working around the edges. Some people like to use toothpicks when trying to draw out the resin to the perimeter of the sticker as it aids in precision.
The back of a small resin spoon works as well. You want to avoid excess resin dripping off the sides, but you can still cut off any excess before the resin hardens completely. It is worth reading craft designer Myléne Hillam's comprehensive guide on how to make epoxy resin stickers.
Drink Coasters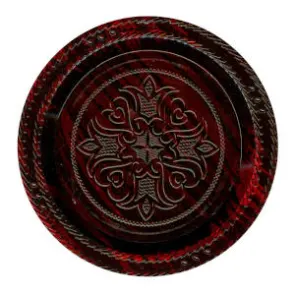 Add some style to your tables with custom drink coasters with the second of our resin art ideas. Simply pour your resin into an applicable mold and fill your pour with your favorite cabochons or other decorations. You may want to review a tutorial before beginning to familiarize yourself with the steps, but it should come easy if you're already familiar with mixing and curing resin.
Resin Letter Molds
Molds for letters come in a wide variety of sizes and fonts. Go with silicone for easy release of your letters once the resin cures.
Pendants
Get your mixing cups, stirrers, and fillers ready. Pendants are one of the more popular resin jewelry pieces and their versatility is limitless as you can quite literally put in anything that fits. Check out Resin Obsession's guide to making pendants for a tutorial.
Dried Pressed Flower Pieces
Decorative flowers are completely dried, pressed, and then treated with some chemicals that reduce the flowers' brittleness. This makes them easy to work with without breaking them. These flowers give a timeless feel to a resin piece, especially when you add depth with layers. Cast your favorite resin and enjoy.
Resin Earrings
Along with pendants, earrings are one of the more common pieces of resin jewelry created by DIYers because the combinations of ingredients are endless. Not only can you choose your shapes but you can also manipulate fillers like glitter and cabochons as well as the findings that you affix to the cured resin parts. Check out these simple instructions for a head start.
Hair Clips
Next on our list of resin art ideas comes hair clips. For these you will want to pickup some barrette molds. Something similar to this should be great. For attaching the metal hair clip portion you will need some adhesive. E6000 seems to be a popular rubber-based choice throughout the crafting community. There is a list of needed supplies and a step-by-step at Happiness is Homemade.
Keychains
If you ever got into crafts at all when you were little, you probably remember making keychains for your friends. Well, you can make some really cool ones when you get resin involved. The E600 may be useful again here in case you plan on affixing decorations to the resin once it dries. There is a good instructable here if you're interested.
Paperweights
Despite it being the catchall term for any pointless piece that never fills a use, the paperweight can actually be an eye catching decoration. You can choose quite literally any mold you like and fill it with anything. One of my customers makes some really cool sea life ones with my marine themed fillers.
Sea Glass
Number nine on our list of resin art ideas comes sea glass. For perfect glass, you'll have to use a torch to get all of the bubbles out of most epoxy resins. You will also need some green pigment and your resin has to be super clear. Consult a walkthrough for help.
Jewelry Box
You could always use more organization for your smaller things, right? Why not pour yourself a jewelry or storage box? You could even craft one to store your crafting supplies!
Resin Rings
Okay, so you can go a couple of ways with this. One is to buy some open back bezel rings, apply some tape to the back of them, then fill the space in the bezel with resin. You can catch a good guide for that process on this blog.
Another way is to buy a ring mold and just make the whole thing out of resin. Either way you can add fillers. Use layers to help build depth and remember some spoons or toothpicks for stirring out the bubbles. I recommend using a doming resin for this.
Bottle Cap Magnets
The use of Mod Podge is recommended for silver-backed bottle caps as resin tends to not adhere well to the material. Just a thin coating works. From there, you can simply glue down whatever background you'd like and begin pouring your resin layers, adding additional fillers as desired. A magnet is then glued on the other side of the bottle cap.
3D Paintings
Grab a canvas, brushes, and some paint along with whatever stencils you like and get to creating. Once you're satisfied, it is time to choose some cool flat-backed resin fillers. These make up the 3D part. Use hot glue to stick the pieces on, mix up your resin, and then pour it right over the canvas.
A heat gun is better than a torch for removing air bubbles in this case as it is less likely to damage the canvas. You can do this with a rounded or non-flat-backed mold, but a flat one is better for adhesion. This is one of the coolest of our resin art ideas because you get to mix mediums.
Mosaic Picture Frame
Find a fairly flat frame, cardstock of varying colors, and some double-sided adhesive tape. Using a paper cutter, as this would take forever with scissors, cut your cardstock into equally sized pieces. Tape the pieces to the bezel of the frame using the double-sided tape.
You can either use a particular pattern or do like I did and mix them all up so every color is random. Brush on a layer of sealer, let it dry, then pour high-gloss resin all over the frame, having made sure to tape off any excluded areas using painter's tape.
Conclusion
With these resin art ideas, we have just begun to scratch the surface of all the possibilities that exist in the world of resin crafting. As you can see, the general principle behind resin crafting remains the same across projects, but the creativity is endless. Check out our ongoing series of epoxy resin crafting ideas for more fun.